If there is one thing we've learned over the past few years it is that technology, the Internet, and businesses go hand in hand in today's world. This became even more obvious when the global crisis struck and everyone had to either go online or go bankrupt. The new normal, however, created new risks and threats, which need to be noticed, addressed, and managed.
Nowadays, pretty much every organization handles sensitive information, connected both to the business itself, as well as to its clients. Whether companies realize the importance of protecting sensitive data, however, is a whole different story. Unfortunately, professional negligence does not go unnoticed by cybercriminals as we witness daily cyberattacks and security breaches. As Forbes shares, Google alone has detected 2,145,013 phishing sites as of Jan 17, 2021, which is a 27% increase compared to the same period last year when the registered phishing websites were 1,690,000. The financial losses associated with cyberattacks are often colossal, but what's more important is that the reputation of the hacked organization also suffers immensely.
The good news is that businesses are not doomed to live in constant fear of being compromised. There is a solution to this problem – organizations need to construct a solid security architecture in order to protect their clients and employees against cyberthreats. You can achieve that by hiring a vCISO.
What is a vCISO?
Put into simple words vCISO is an abbreviation that stands for a virtual chief information security officer. As the job title suggests, vCISOs protect organizations against cyberattacks by constructing and implementing security programs specifically tailored to suit the needs of a given company.
In order to keep your company protected against cyberattacks, a virtual security officer will first identify potential threats and security flaws for your business in order to determine the risks, develop and manage your cybersecurity program, revise and build security policies and frameworks, outline incident response processes and guidelines, and continuously monitor and report meaningful Key Performance Indicators (KPI's) to the stakeholders. By doing this Cyber Risk Management is transformed into a Business-as-Usual process in every organization. Furthermore, vCISOs can help you comply with key industry-specific regulations and requirements such as PCI, HIPPA, ISO, and many more.
Overall, you should perceive your vCISO as a trusted expert who is always there for you and your organization and whose primary goal is to guide, advise and safely lead you throughout your cyber journey. Although CISO (chief information security officer) and vCISO can be extremely similar in terms of their professional tasks (and titles for that matter), there are a few drastic differences between the two.
vCISO vs. CISO
Hiring a vCISO and hiring a CISO can turn out to be two distinctly different experiences for your company. The latter means to delegate your cybersecurity needs to an in-house professional, who is your employee and works solely for your company. On the flip side, virtual chief information security officers often manage the cybersecurity needs of more than one organization by implementing a risk-focused approach and remaining result-oriented. The fact that vCISOs work with many organizations simultaneously, however, does not mean that they are less invested in protecting your company against attacks. On the contrary, vCISOs can turn out to be more competent and experienced than their in-house colleagues, simply because they have had the chance to work for businesses operating in diverse industries and requiring varied security demands.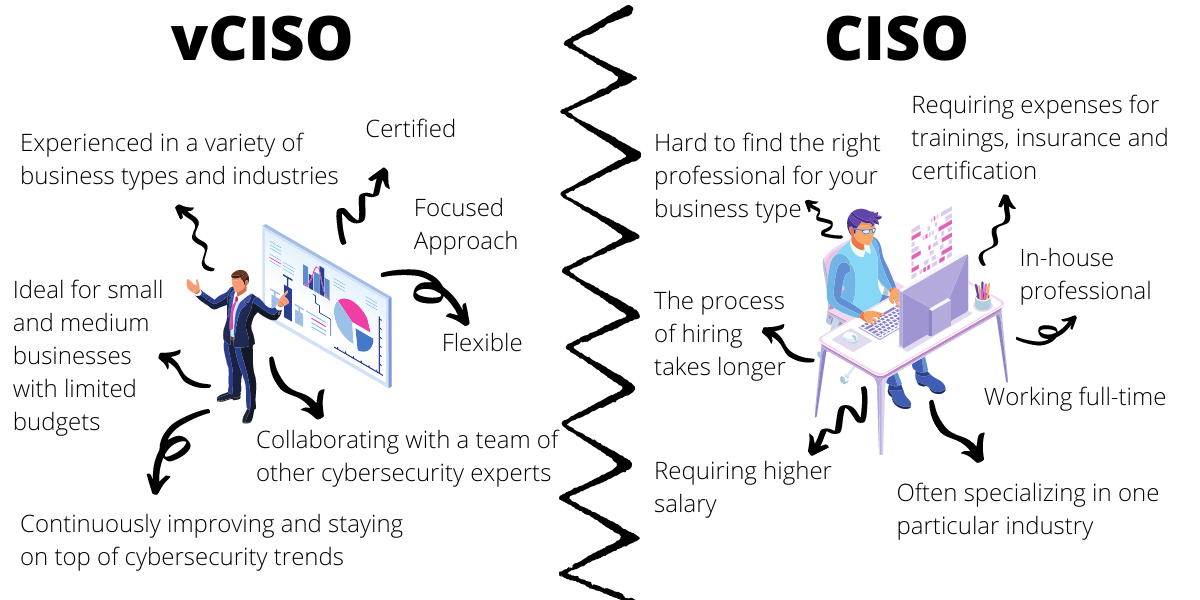 Nowadays, companies are forced to build their online presence, because of the pandemic and many of them have never set foot in the digital before. Furthermore, we've seen a rapid increase in the number of regulations and requirements concerning the protection of vulnerable data. Therefore, cybersecurity experts also saw an increase in their workload, which means that finding skilled professionals with experience in your specific business area is not a particularly easy task. It may take a long time before you are finally able to come across a good match for your company. Not to mention that you may end up in a sticky situation even before you've found "the one" and you should try to avoid that at all cost!
Therefore, many organizations prefer outsourcing their cybersecurity needs to consultancy companies, which offer vCISO as a service.
Why do you need to hire a vCISO?
If you're not sure why you might need to protect your company's sensitive information from cybercriminals, then the next paragraphs should give you all the answers.
First and foremost, we have to warn you: don't wait until the ship has sailed to protect your organization. It's important to point out that the costs of recovering from a cyberattack can often be much more expensive than those of taking measures to prevent it. According to cybersecurityventures.com, cybercrime is predicted to inflict damages totaling $6 trillion USD globally in 2021, while Statista predicts that this year the global spending on cybersecurity products and services will reach 54 billion USD. Therefore, it becomes obvious that recovering from a cyberattack can lighten your wallet much more than dedicating a budget for cybersecurity before it's too late.
Furthermore, businesses that operate in certain industries such as financial, insurance, and healthcare, are required to comply with a number of regulations, some of which obligate them to employ third-party cybersecurity experts. Additionally, with the continuous rise of cyberattacks, it is believed that the regulatory landscape will change. As securityboulevard.com shares, we shouldn't be surprised if more strict regulations with heavier fines and shorter implementation time arise in the near future.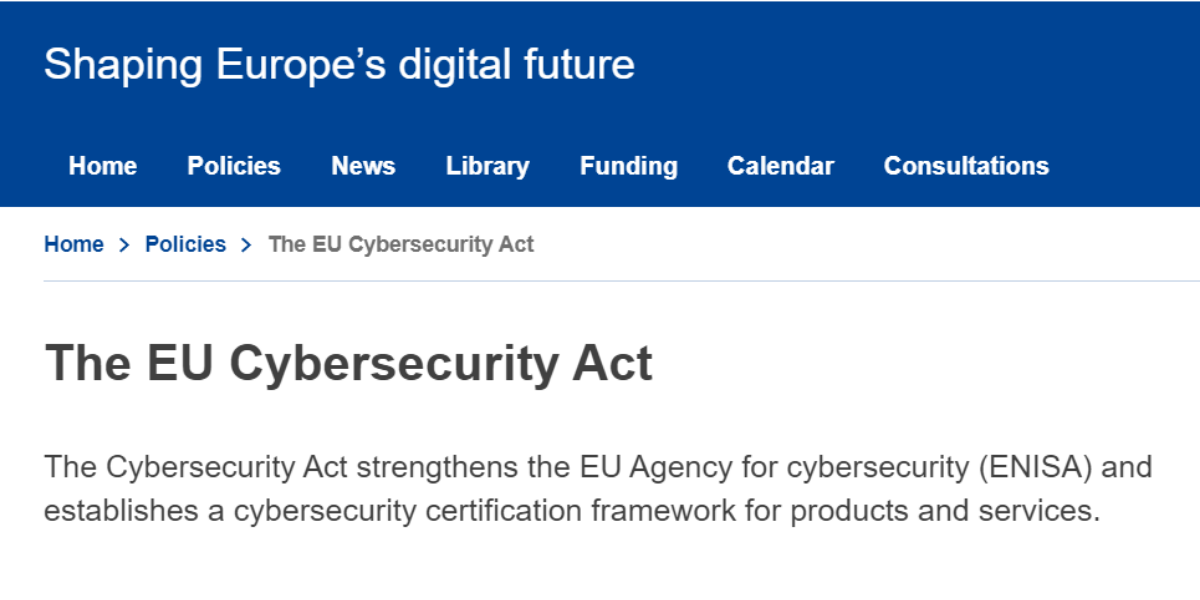 The fact that detecting breaches and dealing with them are not easy tasks is yet another reason to utilize a trusted partner in your cybersecurity initiatives. While cyberattacks occur every 11 seconds, some companies take as long as 6 weeks to detect that their data has been compromised as reported by cybintsolutions.com. Not to mention that this is also valid when it comes to big companies such as Facebook. On top of that, over 77% of organizations do not have a cybersecurity incident response plan, which means that even if they recognize a cyberattack in action, they would not know what steps to take in order to resolve the situation successfully.
Is your organization protected?
Keep in mind that the vCISO you decide to trust should be able to give answers to reasonable questions, such as:
Is my business protected?
What are the cyberattack risks my organization faces?
How badly could my business be affected and how big could the costs be?
Which regulatory requirements do I need to comply with and why?
What do we need to do in the short and mid-term to mitigate the risk?
How much will the cyber protection measures cost me?
Which are the essential cybersecurity KPIs that we need to monitor if we want to be confident in our protection measures?
Now that our article is coming to an end, we hope you have a clearer idea of why hiring a vCISO can turn out to be one of the most important decisions you've ever made. It can not only result in you saving money to invest in growing your business further but it will also give you peace of mind (and we know that's priceless).
To learn more about vCISO as a service, click here. Additionally, if you have any further questions about this service or cybersecurity as a whole, don't hesitate to reach out and contact us. 3Cyber-Sec is always ready to help you and give you advice on how to protect your organization's sensitive data. As a boutique cybersecurity consultancy, we value each of our clients and strive to answer their individual needs with tailored security solutions.