While all businesses should constantly improve their cybersecurity programs, cybercriminals tend to target financial institutions the most. The simple reason for that lies in the fact that they handle a lot of sensitive data such as clients' names, contact information, social security numbers, information about their financial statuses, and last but not least, they hold clients' money! What's more important, is that banks are not what they used to be two decades ago when people had to go in each time they needed to make a transfer or draw money out. Nowadays, consumers can do pretty much everything with a mouse click. We don't have to carry cash, we don't even have to carry credit cards anymore – to pay for our groceries, we simply need a smart device such as a mobile phone, a tablet, or even a smartwatch.
In January 2021 alone there have been three major cyberattacks directed towards financial institutions, as reported by carnegieendowment.org. It's important to note that there are big names such as PayPal, American Express, and The Reserve Bank of New Zealand amongst the targeted organizations. Cyberattacks typically aim to steal money or information or disrupt the operations of a financial institution. This includes attacks on the financial institution itself, its customers or members, or its service providers.
Top 5 Cyberthreats Financial Institutions Face
While there are many methods through which a cyberattack can be performed, some of them are more popular when it comes to hacking banks and financial institutions. Keep reading to find out which they are.
1. Malware
By definition, malware is any software, which is intentionally designed to damage or destroy computer systems, servers, clients, and computer networks. Your organization can get infected with malware through email attachments, flash drives or external hard drives, infected end-user devices such as smartphones or tablets, or downloads from malicious or compromised websites. As purplesec.us shares, 90% of financial institutions reported being targeted by malware in 2018 and companies spent an average of $2.4 million in defense against such malicious software.
2. Ransomware
Ransomware attacks are similar to malware attacks because they are also executed with the help of malicious software. The difference, however, is that when it comes to ransomware, usually the used malware encrypts the files on your device and hackers demand a ransom in order to decrypt the files and restore the device to its functional state. According to safeatlast.co, there's a 19-day downtime following a ransomware attack, and businesses are blackmailed to pay a ransom of $233,217 on average. Furthermore, it is predicted that the global cost associated with ransomware recovery will exceed $20 billion in 2021.
3. Cyberattack through third-party vendors
When working with third-party vendors, banks and financial institutions are often put at risk of cyberattacks. Even if a given financial institution has taken measures to establish solid cybersecurity controls and action plans, its partners could be vulnerable to attacks. This may lead to the contamination of the bank itself. Naturally, data breaches may follow, which could result in millions of dollars in expenses. In fact, one of the largest data breach settlements in history ($18.5 million) was paid by Target after cybercriminals managed to exploit third-party access and exfiltrated payment information, which impacted more than 41 million customers.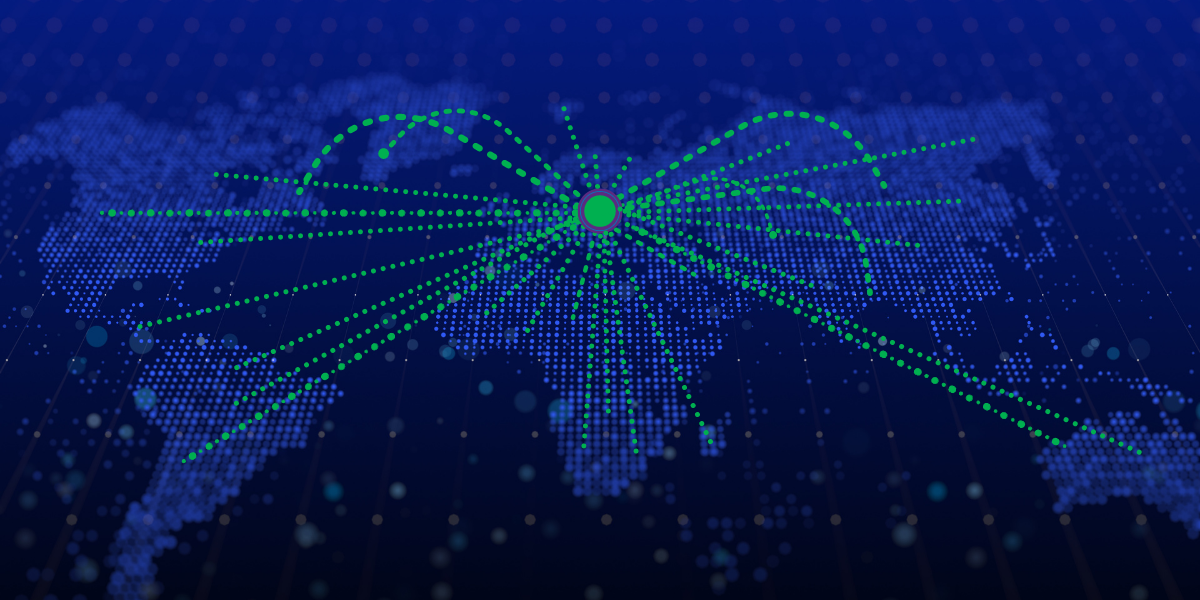 4. DDoS attack
Attacks that disrupt a website's operation and block the users from accessing the site are called DDoS (distributed denial-of-service) attacks. In essence, the cybercriminal uses botnets (a network of Internet-connected devices usually build of infected user systems) to drastically increase the traffic towards the victim's website. Therefore, authentic users can't get through as the servers overload. As gomindsight.com shares, 1/3 of network downtime incidents are attributed to DDoS attacks, costing businesses financial losses and reputation damages. Often, DDoS attacks are used as a distraction while another cyberattack takes place simultaneously.
5. In-house threats
Harvard business review shared IBM's report findings that 60% of cyberattacks were carried out by insiders. Moreover, the same security research also found that the financial industry is amongst the top three most targeted sectors. Whether through human errors or carefully calculated actions, employees can contribute towards your company being hacked. Therefore, it's important to conduct regular security awareness training.
It's crucial for financial organizations to take the necessary steps to avoid such attacks and mitigate their consequences. To further ensure the safety of financial institutions and to protect sensitive data, governments and organizations came up with a number of compulsory regulations, with which financial institutions must comply.
Essential Cybersecurity Regulations for Financial Institutions
The financial industry is amongst the most strictly regulated ones. There are many regulations that are specific to each country, but there are also global requirements that banks and other organizations in the financial industry must adhere to. Three major ones are PCI DSS, ISO/IEC 27001, and SWIFT CSP.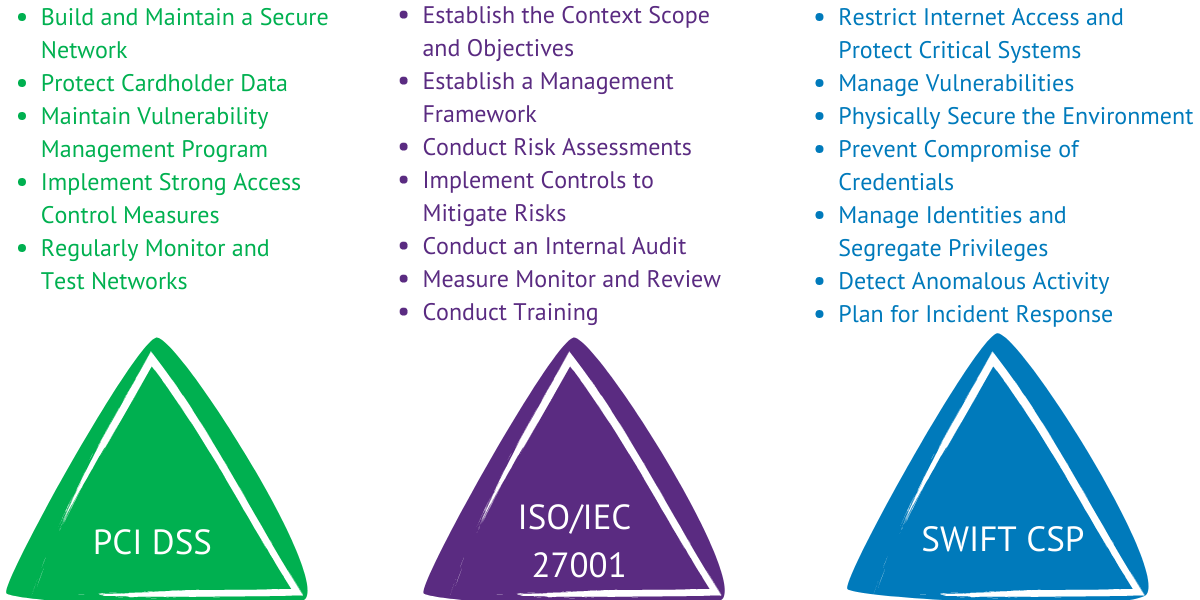 PCI DSS stands for Payment Card Industry Data Security Standard. This standard specifies requirements for the processing, storage, and transfer of payment card data. These standards apply to organizations, institutions, merchants, and payment solution providers. The PCI DSS aims to prevent credit card fraud and further strengthen the security of cardholder data. It's important to note that financial organizations will be fined if they fail to comply with this regulation. According to centurybizsolutions.net, the penalties can vary between $5,000 and $500,000.
The ISO/IEC 27001 is part of the larger array of ISO/IEC 27000 security standards. The abbreviation stands for International Organization for Standardization / International Electrotechnical Commission. Information security management systems (ISMS) should be created and operated in accordance with this standard. Its main purpose is to set guidelines for best practices in order to prevent and protect sensitive data. If your organization complies with ISO/IEC 27001 this will secure its services and give you a competitive advantage. If, however, you fail to comply, you may still apply for a reassessment, but this can cost you as much as 60% of the original assessment, depending on your level of non-compliance, as shared by standardfusion.com.
Every organization which uses SWIFT (Society for Worldwide Interbank Financial Telecommunication) services must comply with the SWIFT CSP. CSP stands for Customer Security Program. Its goal is to outline requirements for the protection of data, managing access, and responding to incidents. SWIFT routinely inspects its members to ensure that they maintain adequate cybersecurity controls. If the inspections outline non-compliant organizations, SWIFT notifies industry regulators such as the UK's Financial Conduct Authority.
Those are the three compulsory global cybersecurity standards for financial organizations. There are also local laws and guidelines which need to be considered by businesses operating in the financial sector. It's crucial to take measures and ensure that your business is compliant with the cybersecurity frameworks, especially if you work with sensitive data. Otherwise, you risk becoming a target for a cyberattack.
Take measures before it's too late
As we become increasingly dependent on technology and as new FinTech inventions become widely popular in people's day-to-day life, cybercrime is only going to continue to thrive. Therefore, it's important to take the necessary measures and protect your organization, especially if it operates in the financial industry.
If you're not sure how you can achieve that, feel free to contact us. 3Cyber-Sec is always ready to help you stay safe in the cyberworld. We are a team of highly experienced, certified professional cybersecurity consultants. Our approach is one of collaboration, with a clear focus on understanding the specific challenges and risks faced by each client. We'll be happy to hear from you and craft a tailored solution for your organization's cybersecurity.